There softness, and the shimmering palette flashy color headboard way in this stylish room. Resolutely girly retro, The Room #3 fans awaits the guests on the floor of the guest house.
Nestled in the large cozy bed, gaze escapes through the small white balcony on the city of Cannes and the surrounding hills. Sol seagrass, wooden family furniture and large white curtains round off the warm and cozy style of the room.
After a moment of pure relaxation in the walk-in shower is before the large mirror in the alcove brilliant mosaic that guests of The Room #3 will surface to get drunk parties, festival and congresses held in Cannes. The art of Fanny noticed between another in the bright patina door with brick partition, original headboard and the unique driftwood lamp. The Room #3 is located on the floor of this charming guest house.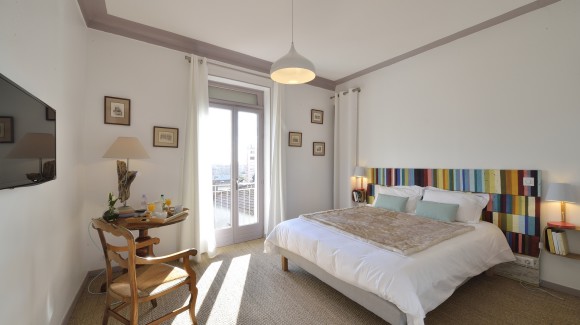 Bathroom

Italian shower and toilet, amenities
Amenities

Wifi, TV, air conditioning, water bottle
Linens

Bed linen, rugs, bath towel
We've just spent the weekend with family and can not wait to go back! Completely captivated by this beautiful villa in a green setting within walking distance of places to visit in Cannes. A quiet unexpected in this green oasis. Arrived at the guest house, the reception was very friendly and the place is tastefully decorated bcp. Our upstairs room is very beautiful, large, bright and comfortable. The terrace looks like a cruise ship deck miss it already! The breakfasts are to be recommended! Fanny thank you for a great time.