A sea breeze seems to have crossed the lovely room # 4. Blue and green water reflections furniture, ornaments and the headboard crafted by the owner, meet the luster and sand colored floor seagrass.
Mailed to the floor, the room opens its wide windows onto the terrace and gardens of the guest house. Throughout the day, the sun of the Riviera illuminates turn the white foam bed, the office kept secret and small fish sparkling color on the walls.
The room is extended by a large shower room with Italian in the same tones full of sweetness. Time to let cool towels on the heated towel rail, guests are immersed in well-being dedicated universe. Room # 4 is located on the floor of the guest house in Cannes.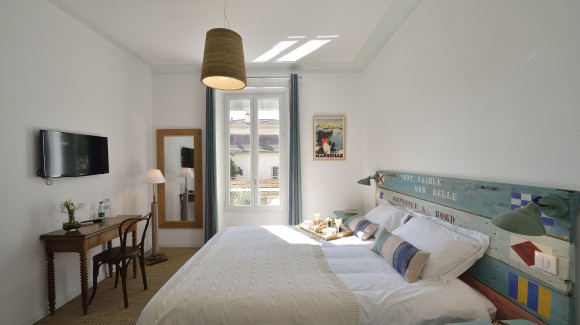 Bathroom

Italian shower and toilet, amenities
Amenities

Wifi, TV, air conditioning, water bottle
Linens

Bed linen, rugs, bath towel
The guest house's ornate rock has an excellent position, a very quiet side and on the other side near the city center, the Suquet market, the congress and festivals and even the beautiful beaches of Cannes . The rooms were very comfortable, decorated with style without excess and are very clean. We took advantage of room No. 4 to the style of the sea. Breakfast is served by the owner under a canopy or on the terrace near the garden. Jams and pancakes are homemade, we want more! A pure delight. Fanny is very nice, affordable and produces remarkable decorative objects. At any point, it is an ideal place for a holiday accommodation, a romantic weekend, for a conference or during the famous Cannes Film Festival. We recommend and return.