Perhaps is it the delicate ribbon that maintains the wooden float rod or the elegant mirror with harlequin patterns which gives the Suite #2 its pure and cozy atmosphere.
The red clay tiles contrast with the blue tones and vanilla linen. Glimmering in small steps with fine brass rose gold lamps surrounding the soft bed and furniture galvanized wrought iron, this suite opens its large and bright window on the canopy of bougainvillea.
Fanny has taken particular care to the revaluation of the original doors and the shower sign his talent. The charming little private terrace of this studio is emerging under the Marquise time restored. The Suite #2 is located on the ground terrace of the guest house in Cannes.
Options : double bed available on request (€50 supplement)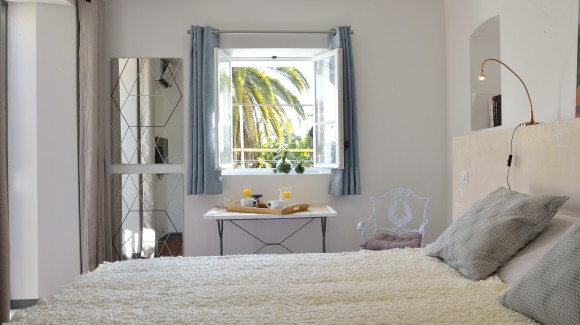 Bathroom

Italian shower, toilet, amenities
Amenities

Wifi, TV, air conditioning, water bottle
Linens

Bed linen, rugs, bath towels
Rates of the the Suite #2
Far from the bling bling of Cannes and the Croisette, a haven of peace, ideal for relaxation and to land a single address the guesthouse ornate rock. Fanny brought us with joy in our Suite #2. The setting and views are magnificent. Comfortable bed and spacious closets. The terrace surrounded by flowers and an orange tree we loved to take our breakfasts in love the fresh morning. In the room, the sun is present. The spacious room is spotlessly clean is well equipped in line what was described on the site, even more (shampoo with sweet almond and genuine Marseille soap!). Fanny the owner of this beautiful charming guest house is generous to give a little advice on tips to do and to visit and restaurants nearby. We will return next spring for sure.